World Class XL & XXL Bully Breeder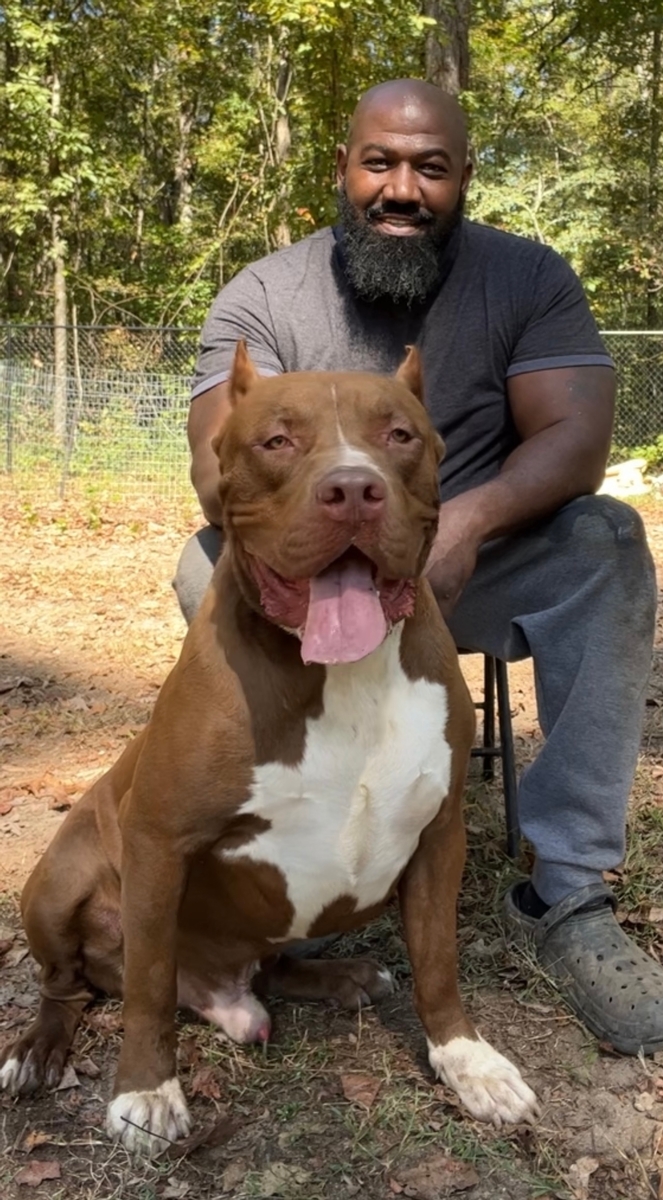 Welcome to Buff N Blue Bullies, the premier Bully breeder in the nation! Our kennel is located in Fort Mitchell, AL right outside of Columbus, GA. Here at Buff N Blue Bullies our XL/XXL Bullies are our family/world. Period! We are here to uplift the breed and produce quality, healthy, XL / XXL pitbull / bully's with outstanding temperaments and drive to match. If you are looking for a dog to just tie up in the backyard then our dogs are not for you.
I have owned and raised this particular breed of dog my entire life. They are the most misunderstood and mishandled breed around. Overall the pitbull / bully is the best I have ever had the pleasure of owning. They are very loving, loyal and yet powerful, very strong willed, very smart, and eager to please. WE GIVE MILITARY DISCOUNTS!
Why Choose Buff N Blue Bullies?
I pride myself on Loyalty and Integrity. My name means the world to me and I will never ruin it by not providing excellent service and servitude to my clients. I go above and beyond to ensure the health and the welfare of my dogs and puppies are grade A all the time. I never cut any corners and spare any expense when it comes to my dogs and puppies. As a reputable XL American Bully breeder I am here to better the breed so that I can provide the most intelligent, most beautiful, most loyalist puppies in the world for generations to come with a temperament of gold. Also when purchasing a puppy from my program you become family and I am accessible to you for any guidance or concerns dealing with the dog. WE GIVE MILITARY DISCOUNTS!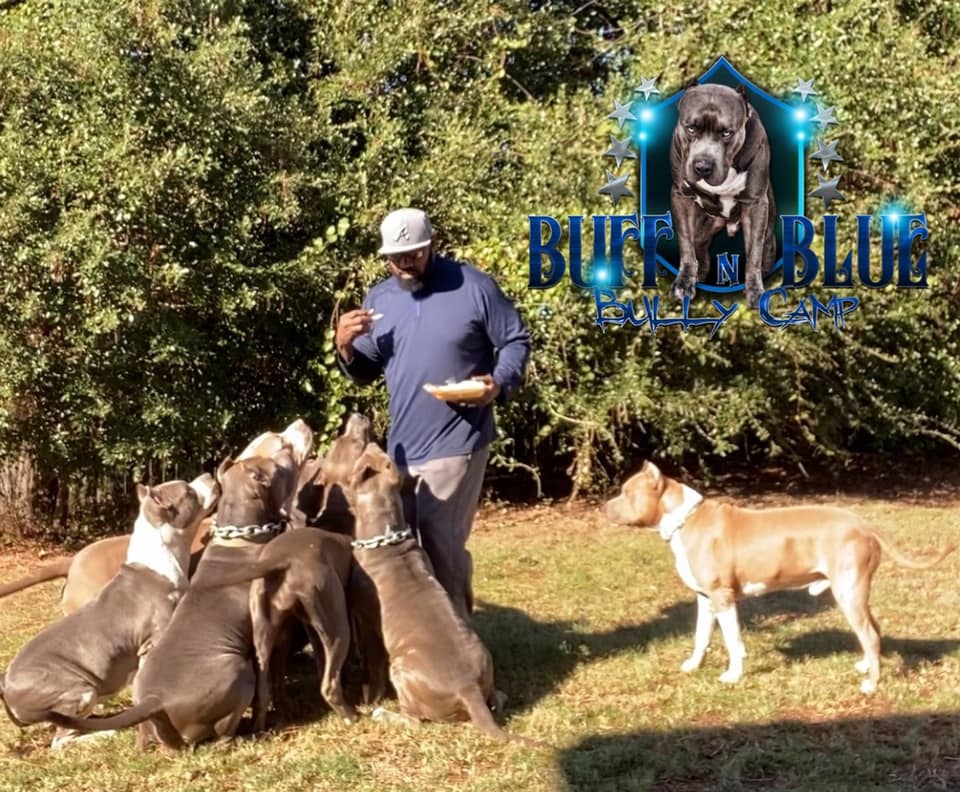 Bully Training & Socialization
I do a lot of training with my dogs which is great for stimulating their brains and furthers my bond with them. Additionally, training from an early age ensures that our puppies will grow up to be well-mannered and obedient. Positive reinforcement methods are the basics when it comes to training your puppy. It's all very simple, praise and reward your dog for good behavior, and correct them when behaving badly. The XL/XXL American Bully pick-up simple commands quite easily. Mental stimulation works wonders for these dogs. Keeping your dog mentally stimulated will decrease the chance of negative boredom behaviors (chewing is a great example) from developing. You may mentally stimulate your dog through training sessions, and plenty of exercise, like fetch and such!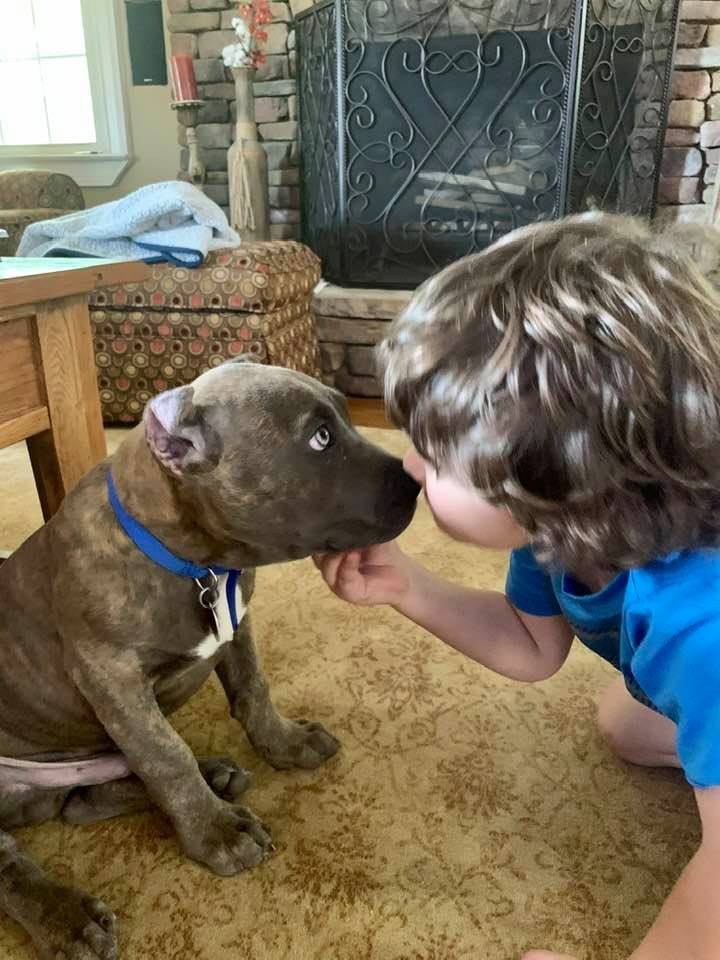 Are Bullies Good Family Dogs?
The XL/XXL American Bully is made for families with children or anyone who desires one the most loyalist friends. Bully Puppies are very kind, extra gentle, overwhelmingly loving, and super affectionate….they make the PERFECT companion. The XL/XXL American Bully is adaptable to any living situation, so whether you are lounging on the couch, or out for an evening run this dog will be your best friend.
The pedigrees of the dogs at our camp consist of some of the best the world has to offer. Each dog has a link to their pedigree in which you all can view. We produce some of the biggest, cleanest, healthiest, show quality, FAMILY PET/GUARDIANS that the pitbull / bully breed has to offer. All applicants will be screened prior to accepting a deposit to ensure that our dogs will be placed in the best homes possible. We look forward to hearing from you all. TO OWN A PITBULL / BULLY IS TO LOVE A PITBULL / BULLY! Don't bully the breed, bully the deed!
Can You Ship Bully Puppies?
Yes and the process is easy and safe for your new family member. We have shipped puppies all over the united states and abroad with much success. Pups have arrived healthy and safely every time. We use ground shippers that deliver the bully pups directly to your doorsteps and into your hands…we also use nanny shippers for flights when its available and applicable. Prices vary from $350-$550 in the US for shipping that is calculated by mileage. And Prices for abroad will be determine by the location then planned accordingly.